Obey Giant Collage Wallpaper
« Genaro DeSia Coppola – "Atari is Hot ... | Obey Giant – The Medium is the ... »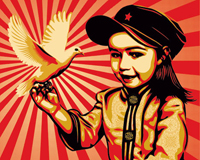 Since the late eighties, Obey Giant has become a true urban icon and cultural phenomenon. The artworks, posters and prints that Shepard Fairey makes under the flag "Obey", are influential and controversial symbols of modern pop art.
Shepard Fairey is the talented Californian graphic designer and vector artist who is hitting the big time with his provocative street art since 20 years. Best known as the mastermind behind the iconic "Obey Giant" campaign and the "Hope" poster he made to support Obama's presidential aspirations, Fairey can count on an ever-widening cadre of fans.
Fairey's work is to graphic design what sampling is to today's music. His catalog of sources and inspiration includes Warhol's silk-screen technique, Jenny Holzer's/Barbara Kruger's red-white-and-black minimalist images plus slogan, Russian Constructivist propaganda, 1940s Mexican poster art, news photographs, American government engravings (stamps, pamphlets, currency), psychedelic rock posters, Cold War advertising and much more.
Fairey samples fragments of popular culture, colors and combines them and uses the screen-printing technique to make them look even more powerful. Download this amazing Fairey/Obey Giant collage in wallpapers formats here, including the iPhone format.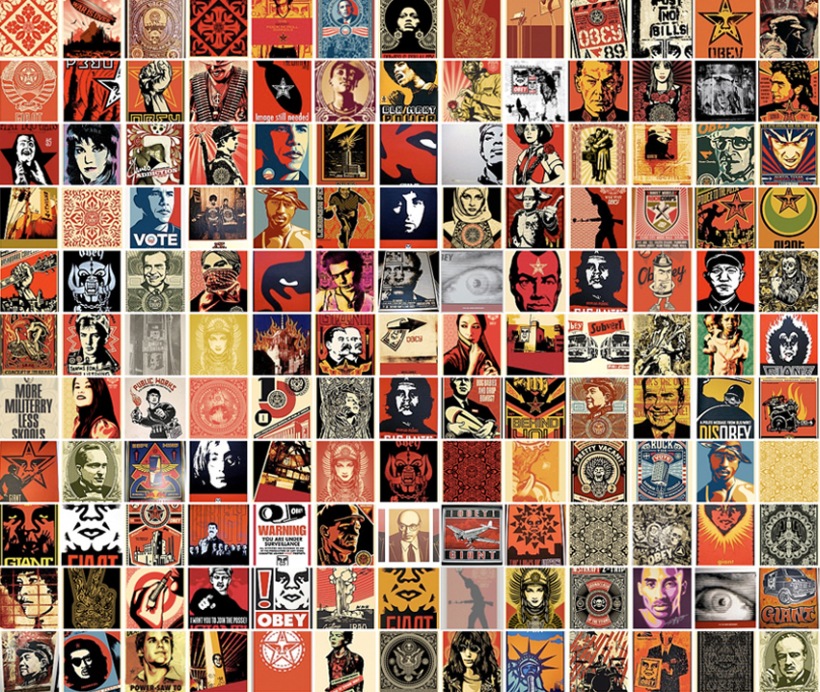 Resolutions:
Related tags: Barbara Kruger, Cold War, Designer, Graphic Design, Graphics, Illustration, Iphone, Jenny Holzer, Obama, Obey Giant, Peace, Poster Art, Power, Prints, Propaganda, Protest, Shepard Fairey, Unity, Vector, Wallpaper, War