Iconic Cult Movie Vector Art: Scarface & Dirty Harry
« Animal Silhouette Vector Art Pack | Sisters Can Do It – Free Vector ... »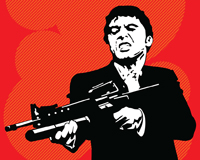 Today, the cult movies Scarface and Dirty Harry are even more popular then when they first were released. Hailed by hiphop stars and a new generation of movie fanatics for their tough talk, loads of violence and popular catch phrases, the "pulp action" fans are still fascinated by the powerful performances of "Scarface" Al Pacino and "Dirty" Clint Eastwood.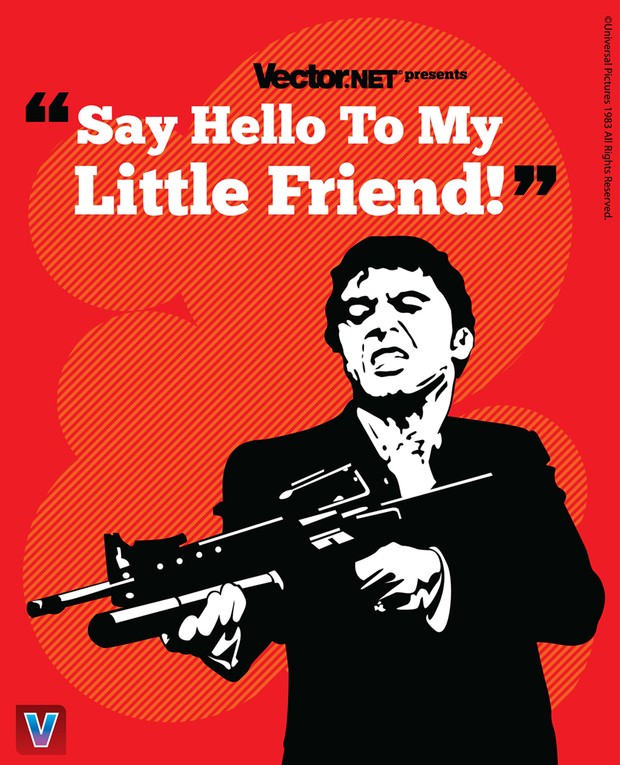 "In this country, you gotta make the money first. Then when you get the money, you get the power. Then when you get the power, then you get the women" – Tony Montana
In Scarface, ruthless Tony "Scarface" Montana (played by Al Pacino) rises from the gutters of Cuba to the top of Miami's cocaine-crazy gangsta scene. Written by Oliver Stone and directed by Brian De Palma, the 1983 movie is still the ultimate gangster movie for many fans.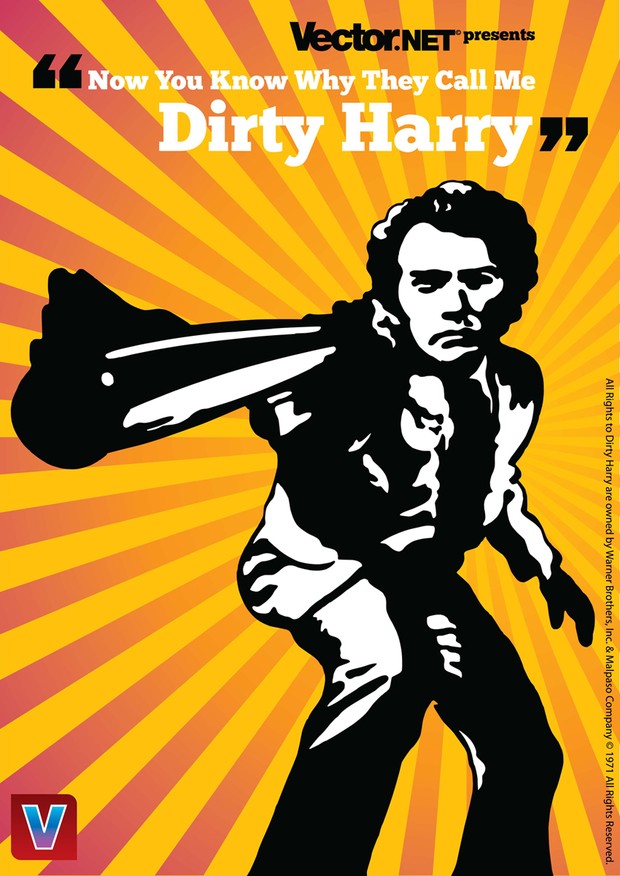 "I know what you're thinking. Did he fire six shots or only five? Well, to tell you the truth, in all this excitement, I've kinda lost track myself. But being as this is a .44 Magnum, the most powerful handgun in the world, and would blow your head clean off, you've got to ask yourself one question: Do I feel lucky? Well, do ya punk?" – Dirty Harry
Hard edge lieutenant "Dirty Harry" Callaghan operates on the fringes of the rules, is openly racist, has little respect for authority, but he is still a straight and likeable hero.
Dirty Harry, played by Clint Eastwood, has tons of courage, a special brand of humor. With his monster size magnum handgun, he always fights for what he believes in.
Vector artwork by Shaun Laakso for Vector.NET
License: Attribution Non-Commercial 3.0, Personal Use Only. Copyrighted film footage is the property of their respective owners: Universal Pictures (Scarface) and Malpaso Company / Warner Bros. Pictures (Dirty Harry). All Rights Reserved.
Zip file includes Illustrator AI CS2, EPS8, SVG, PDF and hi-res JPG.
Attached Files
| | |
| --- | --- |
| VectorNET Cult Icons Scarface Al Pacino (AI, EPS, PDF, SVG) | |
| VectorNET Cult Icons Dirty Harry Clint Eastwood (AI, EPS, PDF, SVG) | |
Related tags: Al Pacino, Boys, Classic, Clint Eastwood, Coke, Cop, Dirty Harry, Drugs, Entertainment, Film, Friend, Gangster, Ghetto, Gun, Harry Callahan, Hiphop, Mafia, Movie, Murder, Police, Scarface, Sex, Tony Montana, Vector, Vector Art, Violence, World Is Yours