Adobe Illustrator CS5
« Lady GaGa | Vector Graphics »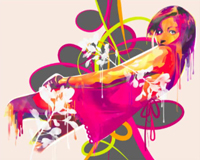 Illustrator CS5 includes some great new drawing tools, including a set of perspective guides and natural media effects. Here we take you through how to use them.
Perspective Drawing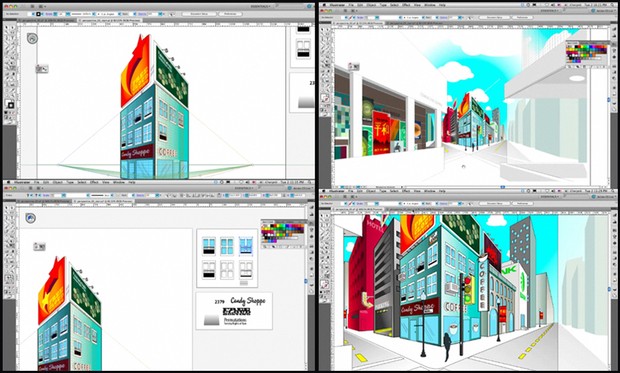 Illustrator CS5 supports 1-, 2- and 3- point perspective drawing. You can draw straight onto the canvas using the normal drawing tools, or if you prefer you can create your artwork flat and drag copies of it into the perspective grid where the Illustrator will automatically add perspective for you.
Choose the new Perspective Grid Tool from the toolbox in a new Illustrator document. This allows you to define a perspective grid in one, two and three points. If a grid hasn't appeared on the art board click the Perspective Grid Tool. Choose View > Perspective Grid > Define Grid to enter grid values.
Select the Perspective Selection Tool first and then click on the face of the cube that represents the perspective plane you want to draw onto. Then use the normal drawing tools to draw directly onto the perspective grid. Illustrator automatically calculates and applies the correct perspective.
You can also copy and paste the existing flat artwork into your Perspective Grid by applying the same automatic perspective. You can create all the designs as flat pieces before arranging them in a mock 3D perspective – saving a lot of time and allowing a greater flexibility later on.
Bristle Brush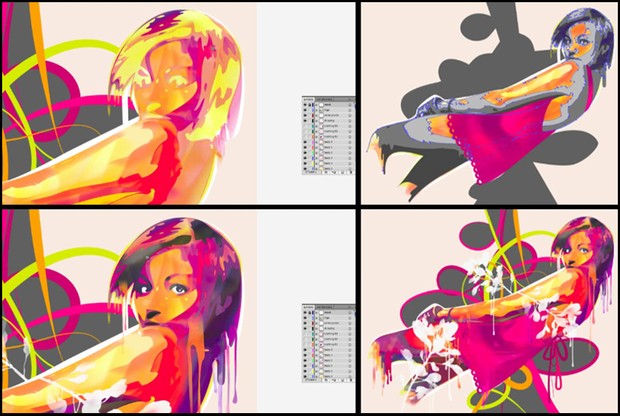 The Bristle Brush allows you to create phenomenal natural media effects in Illustrator. You can choose from a preset or create your own brush, selecting different options to imitate real brushes including the type of brush, brush stiffness, bristle density, length and thickness and paint opacity.
Create a new file and place a photo on the art board. Use Illustrator's Live Trace function to create a posterised vector version of the artwork with six colours. This will give you a very stylish result that looks pretty good on its own.
Click on the first area of colour created by Live Trace using the Direct Selection Tool. Once this area of colour is active, choose the new Draw inside option from the drawing modes list. This will restrict your paint to the shape you have selected.
Choose a Bristle Brush preset, or create your own brush by clicking on the New Brush button. Paint over the entire area in one or two colours. Once you're done, select the next colour area and repeat until your canvas is complete.
Other Highlights
The Shape Builder tool enables you to create better complex shades.
You can draw behind and inside shapes through new modes.
You get better support for web output through the new pixel grid alignment options.
Variable width strokes enable you to control your stroke width and style precisely.
A new online collaborative and approval service, CS Review is integrated within the Illustrator.
ABOUT ADOBE CS5
Adobe software is the undisputed standard in digital imaging and creation, used by amateurs and professionals alike. Adobe Creative Suite 5 (Adobe CS5) is a software pack of illustration applications and photo manipulation, web development and video editing software. This creative software pack developed by Adobe Systems consists of Photoshop CS5, vector art program Illustrator CS5, Acrobat, Flash CS5 and InDesign CS5.
If you are going to buy the Adobe CS5 software, use the links below for the latest Adobe offers.
Related tags: 3d, Adobe Cs, Alignment, Art Board, Bristle Brush, Creative Software, Cs5, Digital Art, Drawing, Features, Flash, Grid, Illustration, Illustrator, Illustrator Cs5, Mac, Macintosh, Perspective, Perspective Drawing, Photo Manipulation, Photoshop, Product, Shape Builder, Smart Object, Tools, Vector, Vector Art, Video, Web Site