Beatles Art
« Velvet Underground Banana | Kylie Minogue »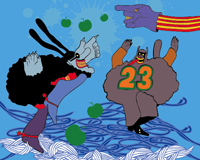 Vector art inspired by the Beatles film Yellow Submarine. In 1968, this psychedelic animation movie was hailed as a masterpiece of avant-garde pop art, revolutionary techniques and Beatles music. The story and soundtrack was savored by fans of all ages: "We all live in yellow submarine, and our friends are all aboard".
The Beatles' Yellow Submarine is a movie that has to be experienced: it's a 100% visual masterpiece, it bursts of color and contains some of the most magical tunes John Lennon, Paul McCartney, George Harrison and Ringo Starr ever created. The movie's story and pop art look & feel are related to the graphic art of the roaring sixties and the work of Alan Aldridge, Victor Moscoso or Monty Python Terry Gilliam. The wild imagination, neon wallpaper patterns and the usage of dancing typography would set the tone for future music video clips.
The story is also amazing. Under the sea, there's a colorful universe called Pepperland where Sergeant Pepper's Band plays their wonderful music. The villain Blue Meanies pursue the peaceful Beatles across the mysterious seas. After watching this psychedelic cartoon, you can only feel more positive about the world. Love is all you need, yeah yeah yeah!
Yellow Submarine graphics by Shaun Laakso for Vector.NET, inspired by the original Beatles artworks. The vector illustrations are fully editable and download zip includes Illustrator AI CS2, EPS8, PDF and SVG files plus hi-res JPG.
License: Creative Commons Attribution Non-Commercial 3.0 for Personal and Editorial Use. Copyright © 2010. Original footage and image copyrights are property of their respective owners, all rights reserved.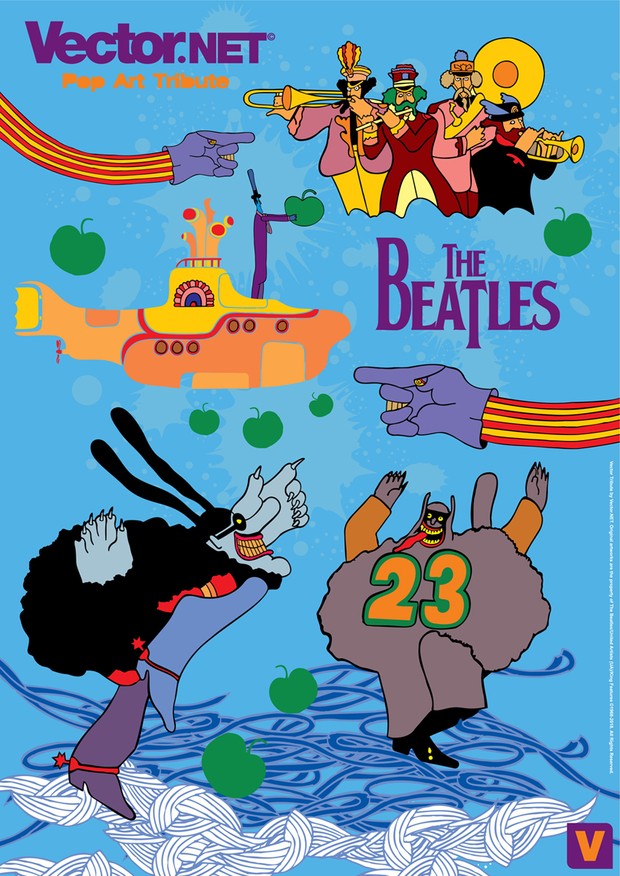 Attached Files
| | |
| --- | --- |
| Beatles Vector Download (AI, EPS, PDF, SVG) | |
Related tags: Animation, Beatles, Cartoon, Clip Art, Color, Film, George Harrison, Graphics, John Lennon, Movie, Music, Paul Mccartney, Pop, Pop Art, Poster, Psychedelic, Ringo Starr, Rock, Sixties, Vector Art, Videoclip, Yellow Submarine