Burj Khalifa Vector Art, Dubai Highest Skyscraper
« Plants and Flowers Vector Set | Scary Movie Vector Illustration Set »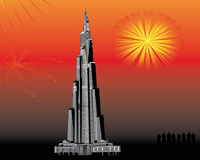 January 4, 2010 was a day of huge celebrations in the Arabic Emirates with the unveiling of the Dubai's Burj Khalifa, world's tallest skyscraper. Named after UAE President Khalifa Bin Zayed, Burj Khalifa Tower has a unique design and there's no other building in the world near the height of it. An astonishing example of technological innovation, the Burj Khalifa was opened with a spectacular light and sound show, sky tracers, space canons and impressive fireworks effects, illuminating the entire Downtown Burj Dubai area. Here you can download our vector art tribute to the world's most iconic new skyscraper.
Today Dubai is definitely the place to be (except for those who fear heights) as the tallest building in the world, Burj Khalifa, opens it doors. With its 818 meters and 160 floors, the Dubai skyscraper is as tall as it's current runner-up, Taiwan's Taipei 101 plus Paris' Eiffel Tower on top.
Chicago architecture office Skidmore, Owings & Merrill did an amazing job with Burj Dubai in terms of height and design quality: the tower is elegantly tailored, exquisitely sculpted and of course breathtaking tall and luminous and recalls a giant sandcastle in the sky. The construction is so high that if you are on top you can see forever… (on a clear day, it's possible to view across the Persian Gulf up to Iran).
Developed by state-owned company Emaar Properties, world's most iconic new building anchors the 500-acre Burj Dubai Downtown, which will quickly become the new heart of the city. In March, the first Armani Hotel will open within the tower. The Burj Khalifa, which means Khalifa tower in Arabic, is set next to a huge shopping mall and world's tallest fountain and is the true symbol of Dubai - a waterfront tourist Mecca that mixes the business sense of New York with the kitschy excitement of Las Vegas.
Vector artwork by Allen Marin for Vector.NET
License: Creative Commons Attribution Non-Commercial 3.0 Unported.
Zip file includes Illustrator AI CS2, EPS8, PDF and hi-res JPG.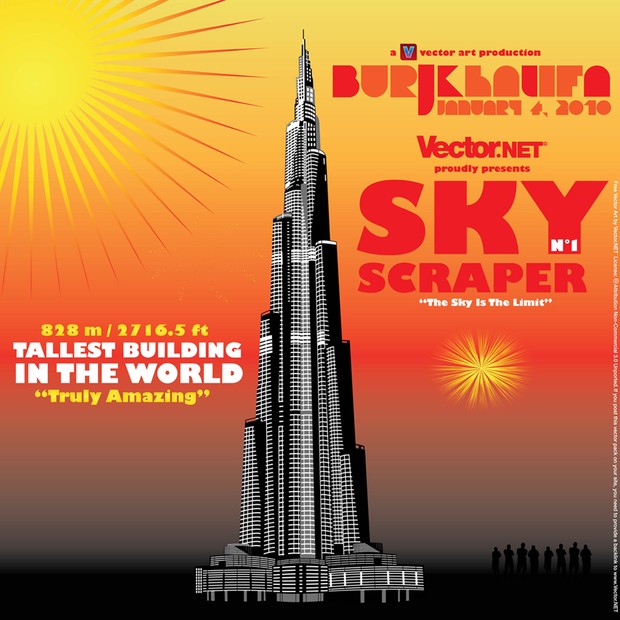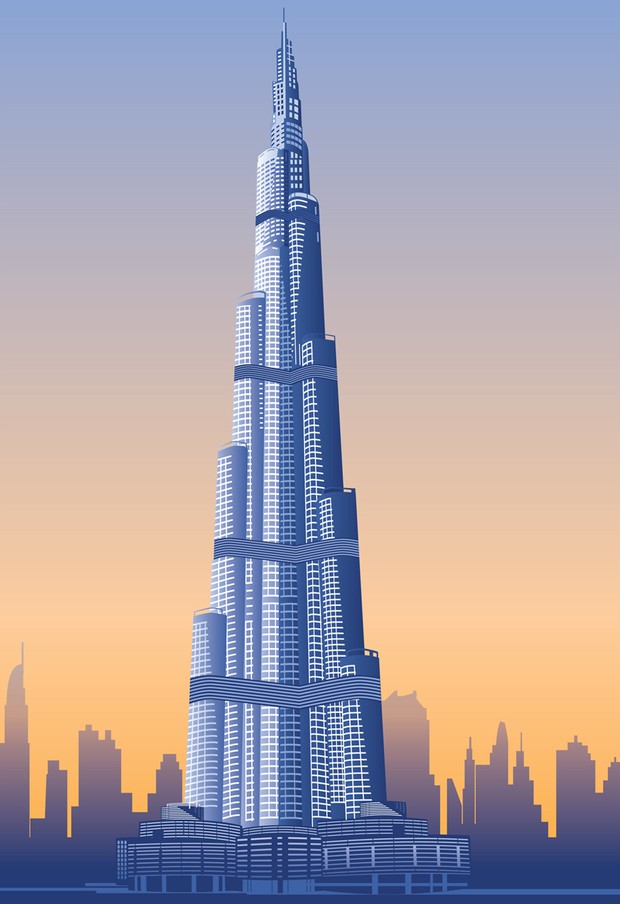 Attached Files
| | |
| --- | --- |
| Burj Khalifa Vector (AI, EPS, PDF) | |
Related tags: Architecture, Armani, Burj Dubai, Burj Khalifa, Business, Development, Dubai, Dubai Estate, Emirates, Event, Free Vector, Future, Graphic Design, Graphics, Hotel, Image, Investment, Luxury, Office, Opening, Project, Real Estate, Skyscraper, Skyscrapers, Tallest Tower, Technology, Tower, Uae, Vector Art