Design Pack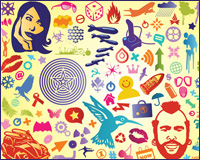 Free vector art pack with large variety of vector clip art, stock icons, symbols, abstract graphics, people illustrations, nature elements and plenty of other cool vector goodies. Cutting edge graphic design demands fresh ways of bringing your ideas to life and to communicate your message. One of the secrets to creativity is knowing how to find the best design footage to help you translate the visual zeitgeist. Download XL free vector art pack to kickstart your design projects.
If you like vector art freebies, you'll love this mega design pack with tons of free vector graphics for illustrators, designers, vector artists and web developers. Vector set with +150 great looking, scalable Adobe Illustrator vector elements: active lifestyle clip art, icons and symbols, web 2.0 resources, people and objects silhouettes, geometric shapes, detailed nature and technology illustrations.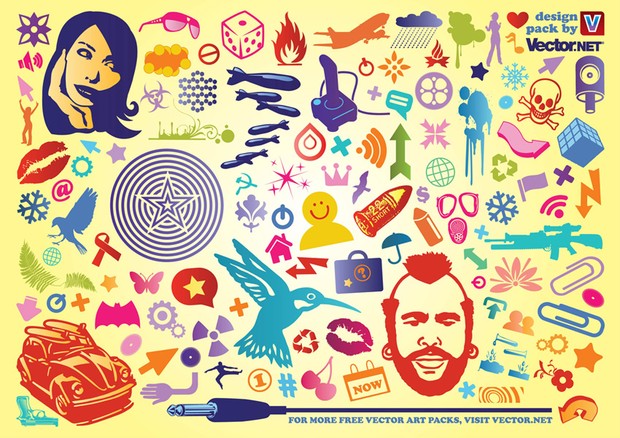 In order to create a cool artwork, it is often important to try out a wide range of designs to capture the vision of your mind's eye. The language of creativity is imprecise; so don't be afraid to take some creative risks when exploring your ideas. Selecting the right information, themes and graphic design resources is key to develop innovative and fresh art. And this is where vector art comes in handy. Vector graphics are easy to combine, scale, transform or to modify color.
Free vector stock footage is a great help to create high quality work, and this free vector pack makes life even easier. Just open the vector art formats AI, EPS, PDF or SVG in vector programs such as Adobe Illustrator, CorelDraw, Flash and FreeHand or import the raster file in Photoshop.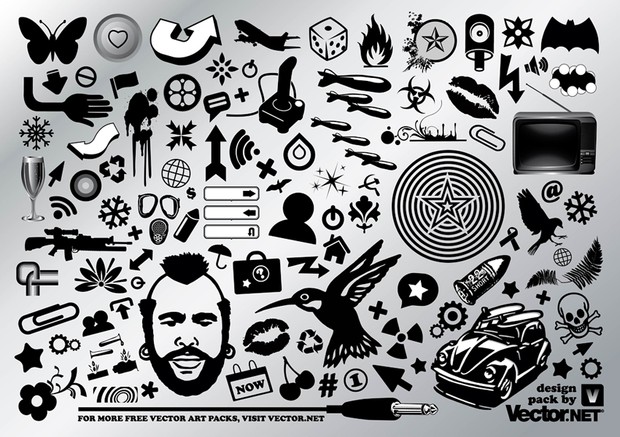 The Vector.NET free mega mix vector pack comes in 3 color versions and contains abstract shapes, circles, swirl ornaments, girl and boy silhouettes, pop art cult icons, illustration, gaming and entertainment graphics. We hope you'll find something you might need for your current or upcoming design projects. Have a great and inspired time!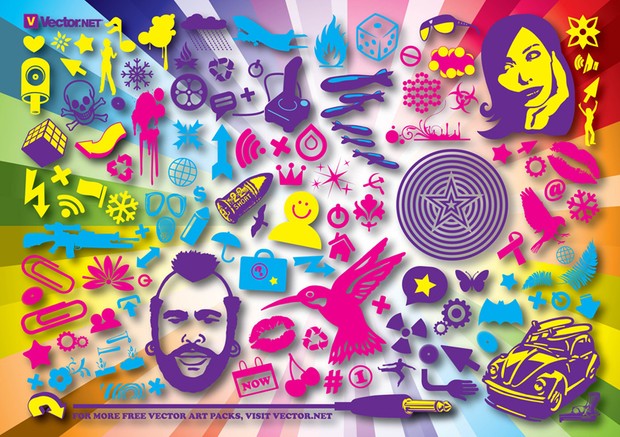 Vector art pack by Shaun Laakso for Vector.NET
License: CC 3.0 Attribution
Attached Files
| | |
| --- | --- |
| Download Design Pack (AI, EPS, PDF, SVG) | |
| Download Design Pack BW (AI, EPS, PDF, SVG) | |
| Download Design Pack Color (AI, EPS, PDF, SVG) | |
Related tags: A-team, Army, Ba, Balloon, Baracus, Beetle, Bird, Bomb, Boy, Bullet, Car, Clip Art, Collection, Color, Colorful, Colour, Console, Cool, Design, Earth, Entertainment, Fashion, Footage, Game, Girl, Globe, Gun, Icons, Lifestyle, Man, Mega Pack, Mix, Modern, Nature, Now, Pop Art, Resources, Riffle, Set, Silhouettes, Skull, Speech, Stationary, Stock, Symbols, Technology, Text, Travel, Tv, Vintage, Weapons