Glossy Design Badges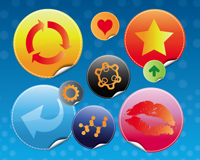 Cool set of vector art glass buttons, icons and logos for your website or blog. Colorful and poppy vector clip art and vector stock footage for graphic designers, illustrators, vector artists and web developers. Download this great mix of vector badges for free in typical web 2.0 style, plus original symbols. Enjoy!
In this free vector art stock pack, you will find 17 glass style buttons with icons, symbols and logos to enrich your designs: mouth, lips, arrows, atoms, wheel, wool logo, heart, star and pop typography. Eye catching vector graphics with beautiful colors and gradients for your print design, motion graphics, brochures, flyers, posters, website or blog.
Professional high quality web 2.0 badges illustration resources with graphic elements and cool electric blue vector dot pop art background, saved as Illustrator AI, EPS, PDF, SVG source files and hi-res JPG. A collection of simple but strong vector illustrations that are easy to incorporate into your artworks, without any worry for blur or pixels.
Vector icons by CG Johnson for Vector.NET
License: CC 3.0 Attribution Share-Alike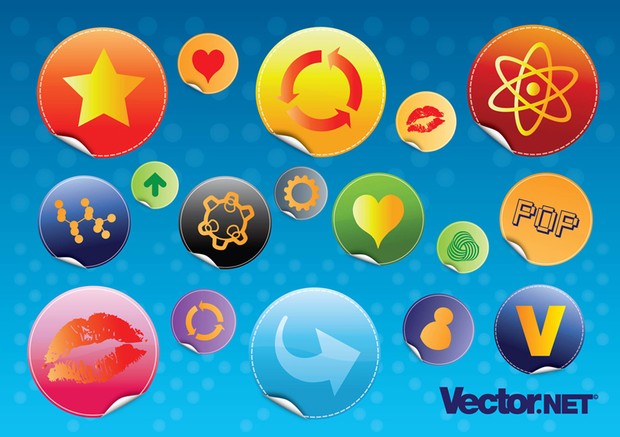 Glossy Design Badges
Attached Files
| | |
| --- | --- |
| Glossy Design Badges Download | |
Related tags: Arrow, Atom, Badge, Blog, Collection, Cool, Design, Flashy, Footage, Free Vector, Glossy, Gradient, Graphics, Heart, Illustration, Industry, Internet, Lips, Love, Mouth, Pack, Pixel, Pop, Sensual, Set, Sexy, Sheep, Speak, Star, Typography, Valentine's Day, Vector Art, Web, Wheel, Wool