Jim Morrison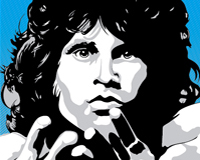 Vector art illustration of Jim Morrison, the singer and lyricist of The Doors until his tragic death in 1971. His fast life, wild behavior, rebellious character and mysterious death remain controversial nearly 40 years later. Enigmatic, erotic and intense, Morrison is one of the most iconic figures in 20th century pop culture.
Born in 1943 as James Douglas Morrison, the future rock and roll star grew up in Florida as the son of a navy admiral. While studying film at UCLA, Morrison and friend Ray Manzarek decided to form The Doors, a reference to Aldous Huxley's Doors of Perception. This artistic duo recruits 2 more members, Robbie Krieger and John Densmore, and the rest is history. Morrison's poetic imagery and mythical behavior were the perfect complement to the Doors' eclectic sound. The Doors' legacy is a basic combination of poetry and rock and roll.
Jim Morrison has many nicknames. He often referred to himself as the "Lizard King" from his epic poem "Celebration of the Lizard" or as "Mr. Mojo Risin'", an anagram of his name. Jim's music, lyrics and life were so closely intertwined that he has become the classic representation of the eternal rock & roll rebel.
Vector artwork for free download by Caos CC for Vector.NET
License: Creative Commons Attribution Non-Commercial 3.0 for Personal and Editorial Use. Copyright © 2010. Original footage and image copyrights are property of their respective owners. All rights reserved.
Zip includes Adobe Illustrator file EPS, AI, PDF and hi-res JPG.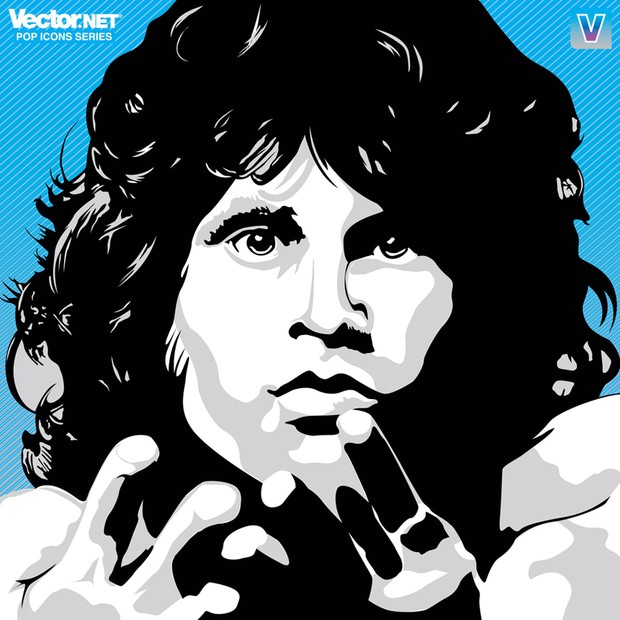 Attached Files
| | |
| --- | --- |
| Jim Morrison Vector (AI, EPS, PDF, SVG) | |
Related tags: Art, History, Hits, Icon, Jim Morrison, Music, Myth, Poetry, Pop Art, Pop Music, Poster, Rebel, Rock And Roll, Seventies, Sixties, Sound, Success, The Doors, Ucla, Vector Art