Marilyn Monroe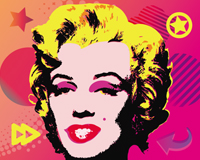 Free Marilyn Monroe vector artworks inspired by Andy Warhol's legendary silkscreen series. Born Norma Jeane in 1926, Marilyn Monroe dominated the age of movie stars to become a famous model, award-winning actress, successful singer and Hollywood star. Marilyn's innocence, apparent vulnerability, sizzling screen presence and comedic skills endeared her to large and varied audiences all-over the world.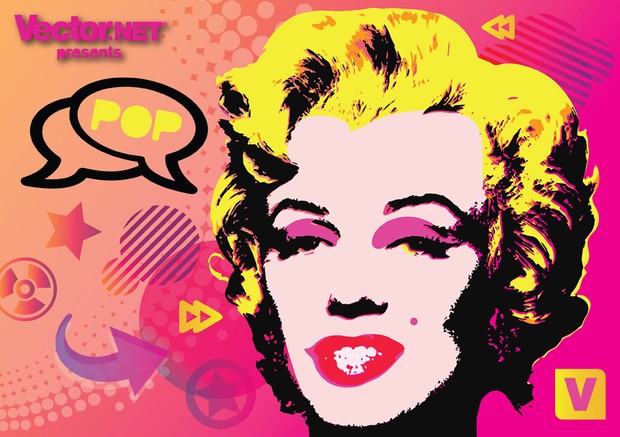 Marilyn Monroe, arguably the most recognizable actress ever, is often cited as the archetypal Hollywood movie star. The American Film Institute ranks Monroe as the sixth greatest female star of all time. Known for her sensual roles, voluptuous curves and glossy red lips, Marilyn Monroe personifies fifties glamour with an unparalleled energy and glow. Her mysterious death in 1962, aged 36, would give her the status of most famous woman of the 20th Century, a true pop and cultural icon.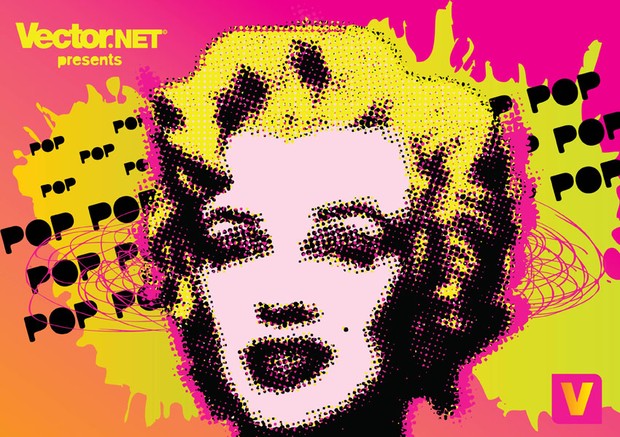 After spending her childhood in foster homes, Marilyn Monroe's claim to fame started as a model, appearing on hundreds of magazine covers. After a screen test, she signed a first contract with 20th Century Fox where the factory girl learned all about acting, costumes, hair and make-up. First she appeared in minor roles, but with her scene stealing performances in fifties classics "The Asphalt Jungle" and "All About Eve", Marilyn convinced talent scouts to give her a role as a leading lady. When she headlined Niagara in 1953, Marilyn proved to the studio bosses that she could carry a big budget movie. Although movie critics doubted her abilities as a dramatic actress, the public loved Marilyn for her screen charisma and sex appeal. Her following movies, "How to Marry a Millionaire" and "Gentlemen Prefer Blondes" catapulted Monroe into A-list status. People started to compare Marilyn to Greta Garbo, and her unique connection with the camera made her world's biggest movie star. In 1959, she received a Golden Globe Award for her performance in the Billy Wilder movie "Some Like It Hot". Later in her career, Monroe proved that she was more than a sex goddess by playing some serious roles.
The final years of Monroe's life were marked by personal problems, divorces, illness and a reputation for being difficult to work with. Monroe was found dead in her Los Angeles home on the morning of August 5th, 1962. Officially classified as a "suicide by overdose", investigators have not ruled out the possibility of an accident or homicide.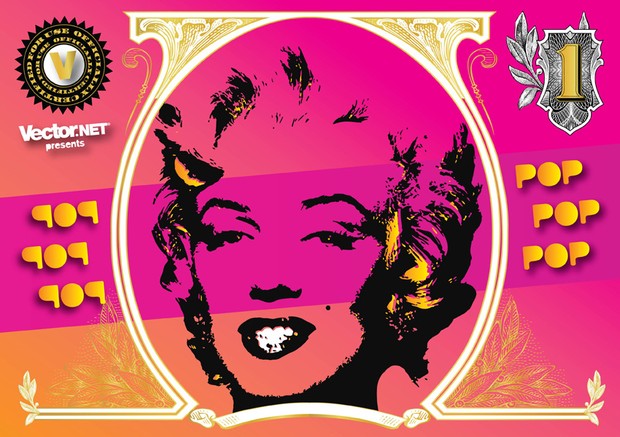 In 1962, pop art legend Warhol made a series of silkscreen paintings of Marilyn, all based on the same publicity shot from the fifties movie Niagara. He created the most famous Marilyn Monroe art and glorified the popular Hollywood star to the status of fine art on the walls of museums. His silkscreen series of Marilyn evoke the religious tradition of painted icons, transforming the popular actress to a saint of her time, a 20th century Madonna. Given Monroe's mysterious death a few months earlier, Warhol's portraits were especially poignant.
Warhol's Marilyn paintings are a fusion of two of Warhol's returning themes: the cult of media & celebrity and death. In those days, Hollywood represented glamour, not reality. Fans knew Marilyn only from her film roles and media coverage. They worshipped the glamorous façade of their idol but did not know anything about the real Marilyn and her tragic life story.
With his flamboyant pop art prints, Warhol called attention to the artifice of Marilyn's media-duplicated image and placed her alongside other popular "products" like Coca-Cola bottles, corn flakes and soapboxes. With his famous pop art approach, Warhol repeated Monroe's image endlessly – depicting her as a manufactured product with imperfections. Warhol did not bother to clean up the defects in his grungy screen print paintings and imitated a factory process without any quality control. Duplicating Marilyn's image until she fades away, the artworks are suggestive of the star's mortality. By doing so, Warhol evoked Monroe's ubiquitous presence in popular culture and ironically criticized the emerging consumerist society.
Marilyn Monroe vector art by Shaun Laakso for Vector.net
Free to use under CC 3.0 personal use license.
Inspired by Andy Warhol's silkscreen portraits © The Andy Warhol Foundation for the Visual Arts. All Rights Reserved.
Attached Files
| | |
| --- | --- |
| Free Marilyn Monroe Vector 1 | |
| Free Marilyn Monroe Vector 2 | |
| Free Marilyn Monroe Vector 3 | |
Related tags: Actress, Andy Warhol, Attractive, Beautiful, Beauty, Blond, Celebrity, Cinema, Cute, Dollar, Dots, Eyes, Face, Fashion, Female, Fifties, Film, Glamour, Hair, Hot, Icon, Lady, Lips, Look, Love, Marilyn, Marilyn Monroe, Model, Money, Monroe, Movie, Pop Art, Portrait, Pretty, Retro, Sensual, Sex, Sexy, Sixties, Smile, Style, Warhol, Woman, Young