Movie Poster
« Beck | History of Adobe Creative Software »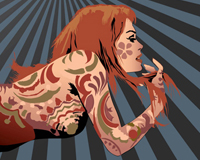 Vector art poster girl inspired by Giuseppe Scotesi's drugsploitation movie "Acid, Delirio Dei Sensi", which premiered in Italy in 1968. The psychedelic drugs LSD and the counterculture helped to define the youth and music subcultures of the sixties. Download this amazing movie poster by Caos CC as free vector. Turn on, tune in, drop out!
In the fifties, psychiatrists use LSD to study mental illness and the CIA tests the hallucinogenic substance as a truth serum during interrogations. Ten years later, psychedelic pioneers as Aldous Huxley, Timothy Leary, Allen Ginsberg and Ken Kesey & his Merry Pranksters explore the potential effect of the madness-mimicking drugs on creativity. Rock stars as the Grateful Dead, The Doors, Pink Floyd, The Beatles and The Stones would follow soon. The big surge of acid coincides with the rapid growth of the protest generation. The spiritual drug starts to inspire music and films. Download the Acid film poster graphic in Illustrator ai, eps, pdf, svg and hi-res jpg for preview.
Vector illustration by Caos CC for Vector.net
License: Creative Commons Attribution Non-Commercial 3.0 for Personal and Editorial Use. Copyright © 2010. Original footage and image copyrights are property of their respective owners. All rights reserved.
Zip contains Illustrator AI and EPS, SVG and PDF plus large JPEG.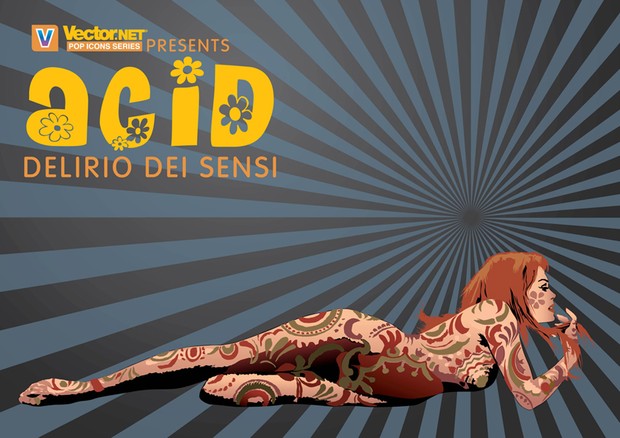 Attached Files
| | |
| --- | --- |
| Movie Poster Vector (AI, EPS, PDF, SVG) | |
Related tags: Acid, Aldous Huxley, Allen Ginsberg, Cool, Creativity, Fifties, Film, Flower Power, Girl, Grateful Dead, Hippy, Ken Kesey, Lsd, Madness, Merry Pranksters; Drugs, Movie, Music, Pink Floyd, Pop, Psych, Relax, Rock, Sixties, Subcultures, The Beatles, The Doors, The Stones, Timothy Leary, Trip, Vector Art, Weird