Obama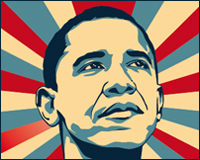 Free vector illustrations of Barack Obama, the 44th US president and first African American president. Obama's campaign catchphrase 'Change you can believe in' is a metaphor for his explosive political career and revolutionary tactics so far. His ultimate success or failure will depend on the ability to convert this slogan in real change, hope and progress.
The tale of President Obama's life is the story of chasing the American Dream: a better and richer life for everyone. Born in Honolulu, Barack Obama was raised by his mother and grandparents in a middle-class family with values from the heartland: the conviction that a life should be lived in service to others; education and hard work as the means to get ahead in life. With the help of student loans and scholarships, Obama worked his way through college. After graduating magna cum laude at Harvard law school in 1991, Obama became very active in Chicago's community life and taught constitutional law at the local university. Obama met his wife Michelle at a Chicago law firm where they both worked and the couple married in 1992. Today, he is the proud father of 2 daughters, Malia and Sasha.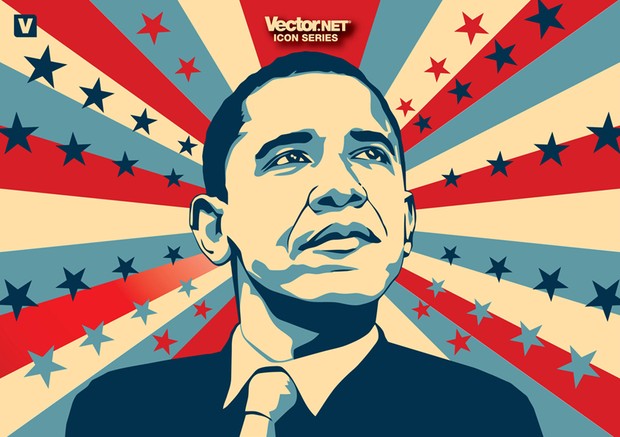 In the nineties, Obama develops his ability to unite people around a politics of purpose and becomes known for using hardball tactics to get things done. As an Illinois State senator, he cuts taxes, expands health care for families in need and passes the first major ethics reforms in 25 years, bringing transparency by putting federal spending online.
In 2004, Obama gets elected to Congress and makes the jump from state senator to the U.S. Senate where he serves on several committees: Education, Health, Homeland Security, Foreign Relations, Labor and Pensions, Financial Management, Government Information and Federal Services.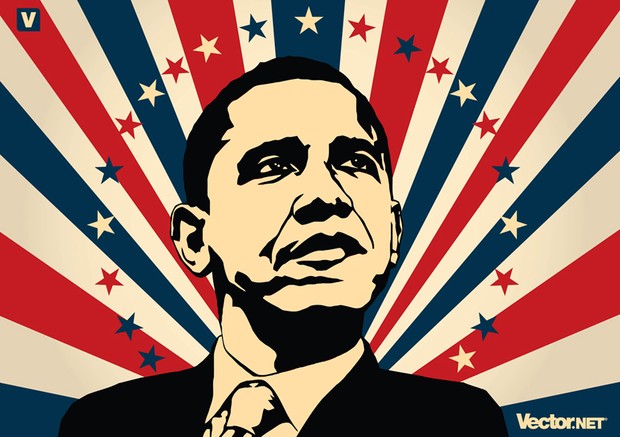 In February 2007, Obama began his run to be the Democratic nominee for president and was nominated after a very close primary race against Hillary Clinton. With Joe Biden as his running mate, he beat his Republican contenders, John McCain and Sarah Palin.
It is a victory with a historical significance. Obama is not only the first African-American president of the USA, he ran his campaign in the spirit of Martin Luther King – as an agent of progress, hope and change.
During his presidential campaign, Obama got the support of the creative community. Visual artists, illustrators and graphic designers as Shepard Fairey (Obey Giant), Scott Hansen (ISO50), David Choe, Paul Richmond, Burlesque Design, The Match Factory, Strawberry Luna, Tristan Eaton, Michael Murphy, Lance Wyman, Kevin J. Furst, AG Ford, Sonya Fridman, Zoltron and countless others translated Obama's message of change in striking and iconic visuals. Some of the images became popular symbols of Obama's fresh approach and call for change.
Whether or not you think Barack Obama is a great president, he makes an excellent muse who keeps inspiring the graphic design community.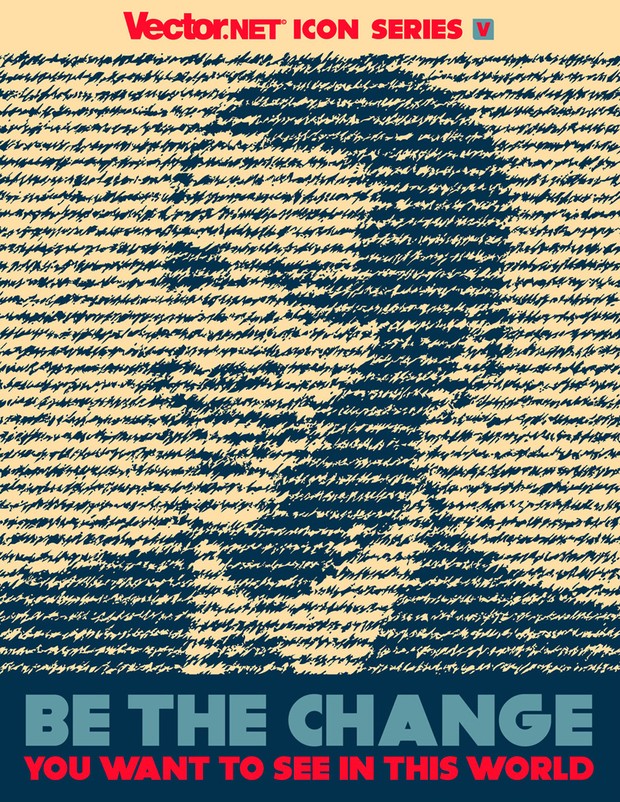 So far, the ride has not been easy with the recent economic recession, high unemployment, international tensions and threats, Iraq and Afghanistan war, BP oil leak and America in political trouble. Although Obama is one of the most successful presidents in terms of passing legislation, his popularity is suffering severely. In a politically divided country with a shaky economy, the expectation bar was set so high from day one that nobody could have cleared it. Today, the Republican media's criticisms have a big impact on the public opinion. President Barack Obama is losing big with the voters and is under heavy pressure to show that he and his party are ready to come up with solutions for the economic crisis.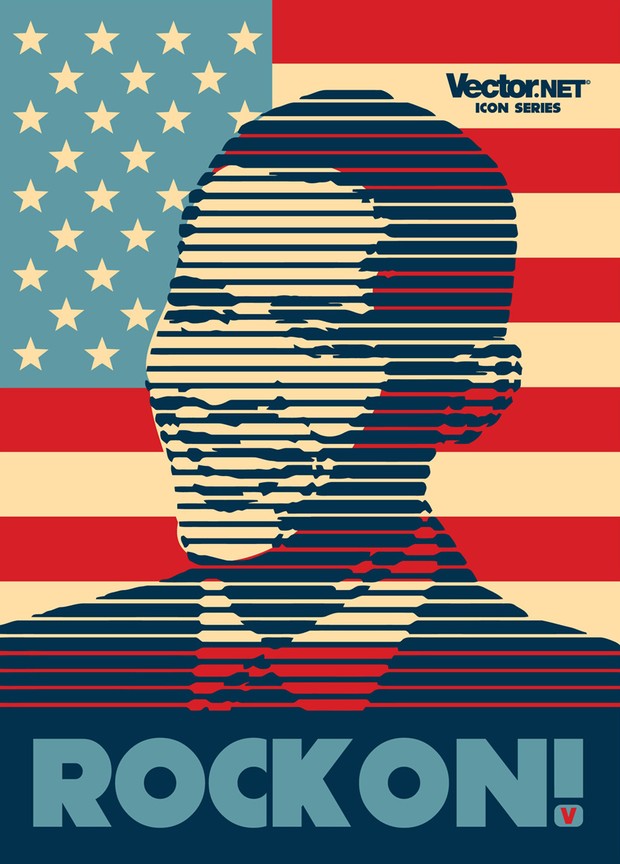 Politically weakened but refusing to bend, Obama recently rolled out new plans to help spur job growth and invigorate the economic recovery. Obama's proposals include a 100 billion US$ extension of business tax credit for research and development, 200 billion US$ in tax breaks for companies that invest in new equipment and 50 billion US$ to improve highway, airport, rail and other infrastructure projects. Proposals that are not expected to pass through Congress easily, as the Republicans are applying a dog-eat-dog mentality.
"For the Republican party, riding the current anger and fear all the way is the easiest thing to do", Obama explained. "But if we walk away now, we will never be able to solve the current challenges. If you're walking down the right path and you're willing to keep walking, eventually you'll make progress. Change will not come if we wait for some other person or some other time. We are the ones we've been waiting for."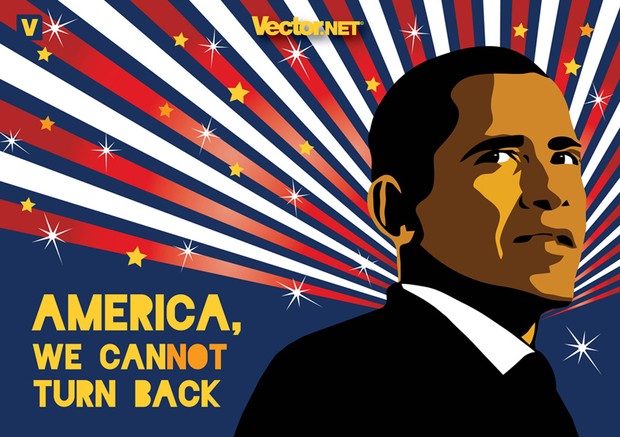 President Obama vector artworks in Illustrator AI, EPS, PDF and SVG format by Asher Lane for Vector.net.
License: CC 3.0 Attribution Personal Use.
Attached Files
| | |
| --- | --- |
| Obama Vector 1 | |
| Obama Vector 2 | |
| Obama Vector 3 | |
| Obama Vector 4 | |
| Obama Vector 5 | |
Related tags: American Dream, Barack, Bp, Change, Chicago, Community, Culture, Education, Federal, Finance, Graphics, Health, Health Care, Hope, Icon, Iso50, Labor, Obama, Obey Giant, Politics, President, Progress, Reform, Scott Hansen, Services, Shepard Fairey, Vector Art