Sticker Art
« The Doors Poster | Ramones Logo »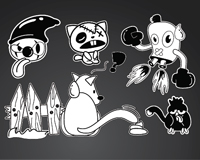 Street style vector sticker pack for free download. Vector artist NoSkill 1343 aka Christ Curn is an Indonesian designer and vector illustrator, living and working in Paris Van Java. As a big fanatic of digital art, he loves to try something new and push limits. Here you can download his vector sticker artworks: a cartoon dog, cat, bird, alien and robot.
Curn's taste is very eclectic. His favorite artist is Diego Rodríguez de Silva y Velázquez (Diego Velázquez), a master of technique and one of Spain's greatest painters; his favorite writer Tolkien but when it comes to music Christ likes the latest hip-hop tunes and alternative rock: Angels & Airwaves, 50 Cent, Eminem and PitBull. The cartoon characters he likes most are the Street Fighter heroes and Doraemon, Fujiko F. Fujio's popular manga illustrations. No wonder his work is so fresh and surprising!
Check out more of NoSkill's illustrations and free vector art packs on www.noskill1343.deviantart.com
License: Creative Commons Attribution 3.0 License
Download this free vector set, containing PDF, SVG, Illustrator AI and EPS.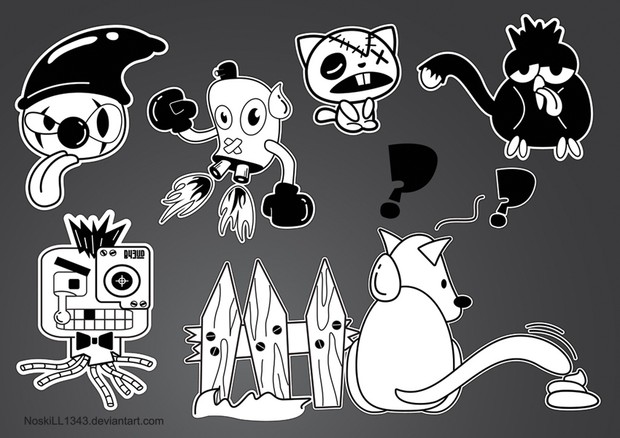 Attached Files
| | |
| --- | --- |
| Sticker Vector Download (AI, EPS, PDF, SVG) | |
Related tags: 50 Cent, Alien, Cartoon, Cat, Character, Decal, Diego Velázquez, Dog, Doraemon, Eminem, Fresh, Fujiko, Pitbull, Robot, Sticker, Street Art, Street Fighter