Vector Heart Collage Graphics
« Free Urban City Vector Illustration | City Street Vector Art with Vintage ... »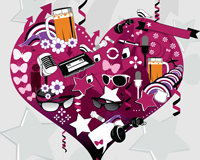 Do you remember the song "Born Slippy" by Underworld? Singer Karl Hyde sums up random things he lives and likes, at a drunken night: "Wonderful and hot time / On your telephone line / Shouting lager lager lager lager…" This vector heart collage by Allen Marin depicts some of the best stuff that life has to offer: music, nature, travel… and beer!
Free vector illustration of a heart with graphic elements to enhance any design for both offline and online purposes.
Vector artwork by Allen Marin for Vector.NET
License: Creative Commons Attribution Non-Commercial 3.0 Unported.
Zip file includes Illustrator AI CS2, EPS8, PDF, SVG and hi-res JPG.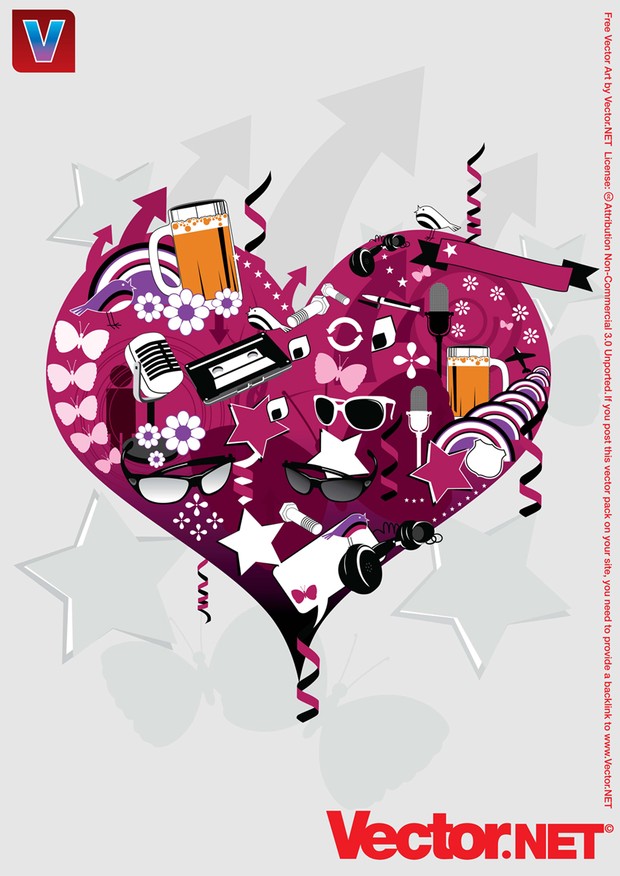 Attached Files
| | |
| --- | --- |
| Vector Heart Collage Graphics (AI, EPS, PDF, SVG) | |
Related tags: Airplane, Arrow, Beer, Border, Butterfly, Conceptual, Cool, Decoration, Flowers, Flyer, Free Vector, Graphic Design, Graphics, Heart, Heart Shape, Illustration, Illustrator, Invitation, Lager, Love, Mic, Microphone, Music, Nature, Qtar, Rainbow, Ribbon, Shaded, Stars, Sunglasses, Symbol, Tape, Tools, Valentine's Day, Vector, Vector Art