Prince William and Princess Kate Vector Art
« Web Design Vector Graphics | Vector Icons Pack »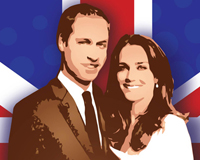 Royal wedding vector artworks of Prince William and Kate Middleton. Vector images of the young royal couple. Today is William and Catherine Middleton's big day, the moment of their long-awaited fairytale wedding: the ceremony in Westminster Abbey, the procession along the streets of London, the Buckingham Palace kiss, celebrations and festivities.
Free vector illustration of royal couple Prince William and his lovely Princess Catherine "Kate" Middleton. Today, Friday 29 April 2011, over 1900 invited guests and 60 heads of state will attend the wedding: the Queen Mother, Princess Royal, Duke of York, Earl and Countess of Wessex, Prince and Princess Michael of Kent for Great Britain. Foreign royal guests include Queen Sofia, Prince Felipe and Princess Letizia of Spain; Queen Margarethe of Denmark; Prince Pavlos of Greece; Crown Prince Alexander of Serbia; King Harald and Queen Sonia of Norway and the Grand Duke and Duchess of Luxembourg.
To honor this historic event, we have uploaded 2 artworks of the royal couple by FreeVector.com. Download William and Kate Wedding vector illustrations of HRH Princess Kate Middleton and Prince William, future king of England. Marriage vector of William and Kate with joyful spring nature background and flag of England backdrop.
Royal wedding vectors by FreeVector.com
License: CC 3.0 Attribution Personal Use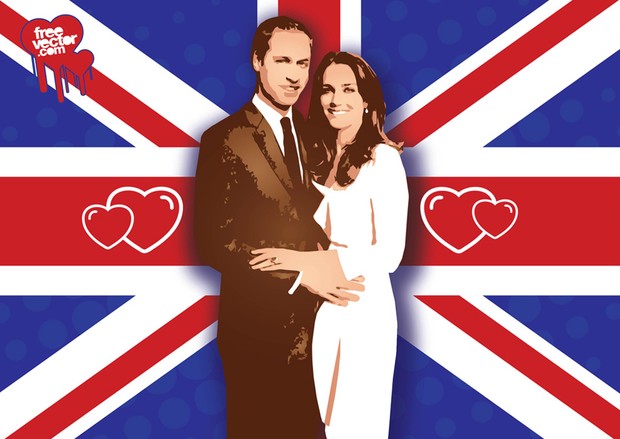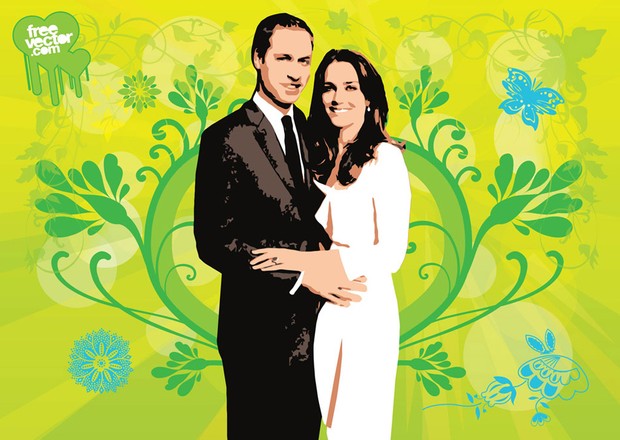 Attached Files
| | |
| --- | --- |
| Download William and Kate Vector (AI, EPS) | |
| Download William and Kate Wedding (AI, EPS) | |
Related tags: Butterfly, Celebration, Ceremony, Decoration, Engagement, England, Flag, Flowers, Green, Heart, Kate Middleton, Love, Lovely, Marriage, Nature, Ornaments, Plants, Prince, Prince William, Princess, Romance, Romantic, Royal, Royal Wedding, Scroll, Spring, Uk, Wedding, William And Kate, William And Kate Vector, Young