Web Design Vector Graphics
« Pimp Your Design | Prince William and Princess Kate Vector ... »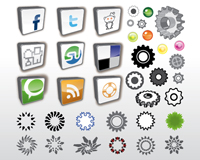 Download free social media design pack with web 2.0 logos, glossy buttons and abstract shapes as vector art files. Free Facebook, Digg, Twitter, Reddit, StumbeUpon and RSS Feed buttons, gear illustrations and 3D glass graphics for your vector freebies footage collection.
The World Wide Web 2.0 is quickly expanding. Social networking and user generated content push the internet in new directions, with tons of new content uploaded every second by people from allover the world. The web is a great platform for discovering fresh stuff and to promote your things worth sharing.
One of the most exciting and challenging things of the web is that there are absolutely no boundaries. You can share your ideas and artworks all over the place and get feedback from creative people you admire. If you are in need of inspiration, there are plenty of cool blogs and websites were you can find inspiring art and graphics. Savvy searchers will also find tons of excellent design resources online. If you're looking for free vector graphics, you've definitely landed at the right spot! Download large set of social media logos, gear, tools and shapes footage in vector art format.
Free web design vectors by Chemist2Dio.com
License: Creative Commons 3.0 Attribution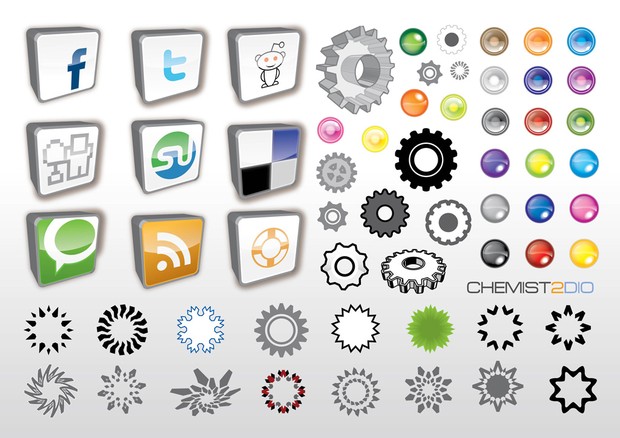 Attached Files
| | |
| --- | --- |
| Download Web Design Vector Graphics (AI, EPS) | |
Related tags: 3d, Abstract, Bookmark, Buttons, Community, Cool, Design Footage, Digg, Facebook, Free Download, Gear, Glass, Glass Button, Icons, Logos, Network, Reddit, Rss Feed, Shapes, Social Media, Stumbeupon, Tools, Twitter, Web 2.0