Skyscrapers
« From Absurdistan, With Vector Love | Pop Art »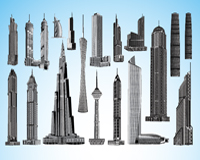 Highly detailed skyscraper vector graphics in Adobe Illustrator AI, EPS, PDF and SVG format for free download. The vector art collection contains the world's tallest existing and planned buildings: Burj Dubai/Burj Khalifa, Guangzhou TV Tower, Empire State Building, Nanjing Greenland Financial Center aka Greenland Square Zifeng Tower, Milad Tower aka Borj-e-Milad, Al Hamra Skyscraper, Emirates Park Towers, Elite Residence Dubai Marina, Shanghai Tower, Petronas Towers, Dubai Towers Doha, Jin Mao Building, Chicago Spire, Emirates Towers, John Hancock Center, Ryugyong Hotel and many other amazing skyscraper vectors.
A skyscraper is an extra-tall, habitable building that towers above the other constructions in the skyline. Skyscrapers are used as residential, commercial, office, retail, hotel or industrial building. The distinctive high-rise buildings have a similar name in different languages: skyscraper, gratte-ciel, arranha-céu, rascacielos, grattacielo, wolkenkratzer, wolkenkrabber.
The history of high towers goes back thousands of years. Since the Middle Ages, artists, architects and engineers have fought a battle in the sky. The term "skyscraper" appeared in the 1880s, referring to the huge commercial buildings appearing in New York and Chicago. Engineers experimented with 2 new construction materials, iron and steel, and were able to support the tall buildings with a steel skeleton of horizontal beams and vertical columns. The typical modern American city, with a concentration of tall multi-storey buildings offering living, business and service spaces, was born.
Today, the image of a skyscraper in our urban society is that of a mega structure rising to the sky that can be found in world-class cities such as New York, Los Angeles, Dubai, Shanghai, Beijing, Hong Kong, Taipei, Singapore or Kuala Lumpur.
In the last decades, records passed from the USA to other countries. In 1997, Kuala Lumpur's Petronas Twin Towers (Malaysia) became world's tallest man-made construction, followed in 2004 by Taiwan's Taipei 101. Since this year, the architectural record passed to the United Arab Emirates' Burj Dubai/Burj Khalifa with its height of 828 m (2,717 ft). The Burj Dubai skyscraper has over 150 habitable floors and 60 maintenance levels in the spire. The tower incorporates motifs from traditional Arabic art, reflecting the cultural influences of its environment.
Skyscraper vector graphics by Shaun Laakso for Vector.NET, free to download. The vector illustrations are fully editable and download zip includes Illustrator AI CS2, EPS8, PDF and SVG files plus hi-res JPG.
License: Creative Commons Attribution Non-Commercial 3.0 for Personal and Editorial Use. Copyright © 2010. Architectural concepts, footage, images, trademarks and copyrights are property of their respective owners, all rights reserved.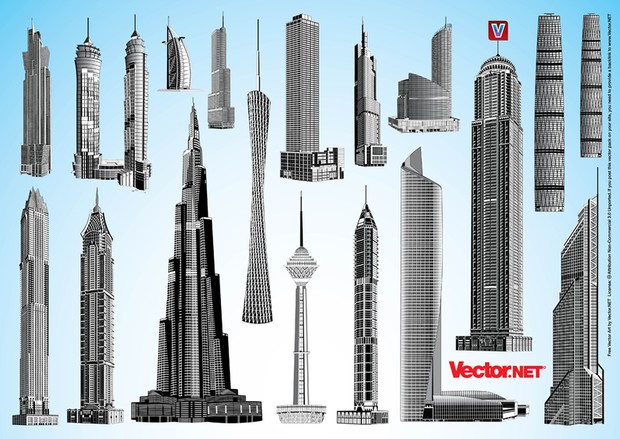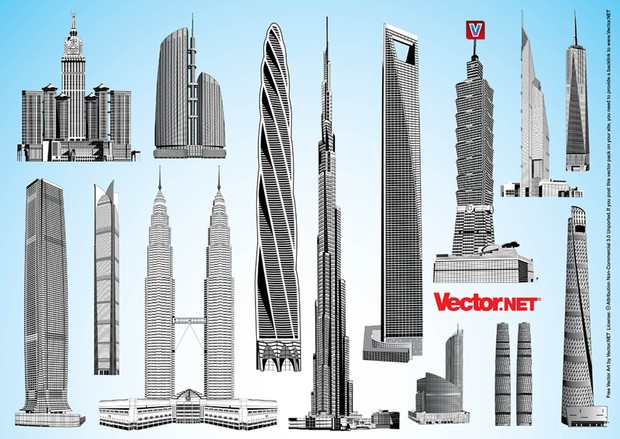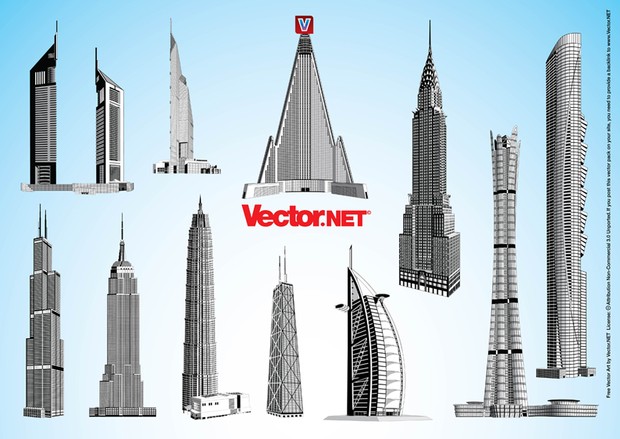 Attached Files
| | |
| --- | --- |
| Download Skyscraper Vector Pack 1. (AI, EPS, PDF, SVG) | |
| Download Skyscraper Vector Pack 2. (AI, EPS, PDF, SVG) | |
| Download Skyscraper Vector Pack 3. (AI, EPS, PDF, SVG) | |
Related tags: Architecture, Burj Dubai Skyscraper, Burj Khalifa, Chicago Spire, Construction, Design, Dubai, Dubai Marina, Dubai Towers, Emirates Towers, Empire State Building, Famous Buildings, Freedom Tower, Guangzhou Tv Tower, Hotels, Kuala Lumpur, Los Angeles, New York, Office, Petronas Towers, Shanghai, Shanghai Tower, Skyscraper, Taipei, Tallest Building, Towers